Discount automatically applied at checkout!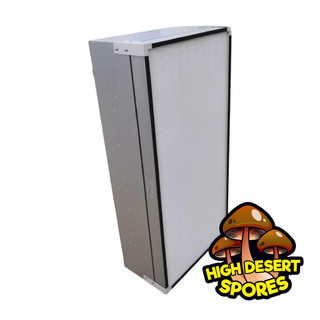 Plug and Play Fan Filter Unit 2ft x 4 ft
Cabinet installation size:575*1175*350mm(W*D*H)
Material: Galvanized steel with aluminum painting
HEP filter size:570*1170*69mm
HEPA efficiency:99.99%@0.3um,H14
HEPA:aluminum frame
Air flow:1200-1500CMH
Ai velocity:0.3-0.5m/s can adjustable
Nosize:</=57dB
Motor:110V 60Hz,1phase
American Standard Plug
High Desert Spores sells High-Quality Mycology Supplies and Tools!
Affordable Quality Products
You can expect premium quality products from us at cheap prices! Are monthly promos are available to you to help you save more (and a little more).
Is our main goal! We're happy when you are! If you are not satisfied with your product(s), contact us immediately and we'll do our very best to provide the best service possible!
😍 What our customers say 😍
Our customers send us a bunch of love and we love them back!
Not a single ding or scratch and I even got extra goodies in a separate box. Flowhood works exactly as it should, flawless. Price was fair too. Thank you
Matthew F.
Great little hood. Only petty criticism is that it doesn't sit level.
Cannadfarms
Legit out of the box plug and play, great price, quality build steady airflow but most important Don responded almost immediately to my questions, so thanks again to highdesertspores!
Joe